MORGAN STANLEY INTER-OFFICE CHESS TOURNAMENT FINALS
8th October
ONLINE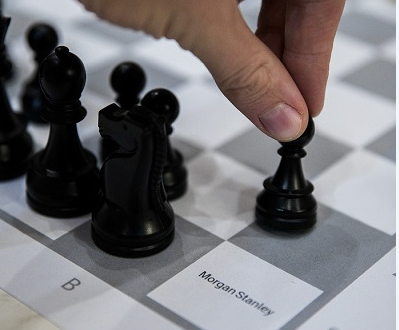 There are numerous chess enthusiasts and accomplished competitive players among Morgan Stanley's global employees – and some of the best will face each other on the eve of the 2021 Global Chess Festival.
Morgan Stanley has been supporting Judit Polgár and her Global Chess Festival for three years. The firm has also been running an interoffice chess championship since 2011, attracting players from cities all around the world, including New York, London, Tokyo, Hong Kong, Baltimore, Chicago, Glasgow, Montreal, Mumbai, Bangalore and, of course, Budapest. This year, the tournament's popularity hit a new high as 400+ employees entered from a record 25 locations. After several preliminary rounds, the Top 16 global finals will take place on October 8, the day before the Global Chess Festival.
While competitions are a great way for Morgan Stanley employees to connect across the globe, the game has many benefits in their professional lives as well. Chess provides a good grounding in many valuable soft skills, including problem solving, rational thinking, decision making, pattern recognition, strategic planning, as well as the ability to adapt to different situations and opponents – all of which are important in business and technology.
The firm has several employees with international chess titles, including five International Masters. Two of them work in Budapest, where the firm established its presence 15 years ago with a mathematical modelling team, and has since grown into a major technology and analytics hub of 2,500+ employees.