Challenge Judit at 7.y.o. and win prizes from Play Magnus!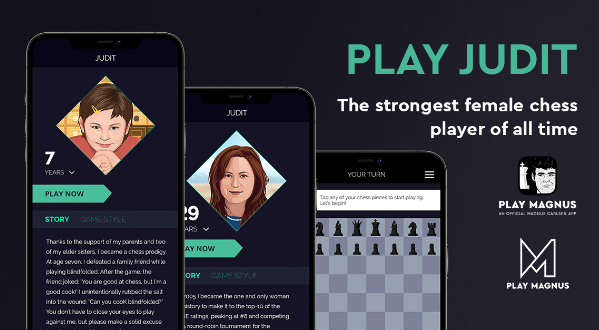 How to play:
Click the link http://judit.playmagnus.com/ on your PC or smartphone
Enter your email and name
Play as many games as you want

When to play:
The contest is open from now until 2 p.m. CEST, October 9th. This is when we will announce the winners.

How to win:
Try to beat Judit age 7 in the least number of moves. If several participants win in the same number of moves, we will use the time spent on the game as a tie-breaker.
Play as many games as you want during the contest period. Your best attempt will keep getting updated on the high score list.

Prizes:
1st and 2nd places: a Play Magnus chess set signed by World Chess Champion Magnus Carlsen himself
3rd, 4th and 5th places: Play Magnus Plus membership for all the Play Magnus apps for three months.